Last semester was pretty intense. I was studying almost every day and looking back, I definitely overworked and subsequently didn't manage my stress very well. This semester I decided to change that.
If I record my day-to-day stress, I can attempt to establish correlations. In this short post, I will lay out what I plan to track, how I plan to do so, and what correlations I will be evaluating.
Variables
I will be mainly tracking the following variables:
Stress
Happiness
Energy
Motivation
I might choose to track other factors if they become more relevant.
Self-reporting via Google Forms
I figured this would be the easiest solution. Here is what the form looks like: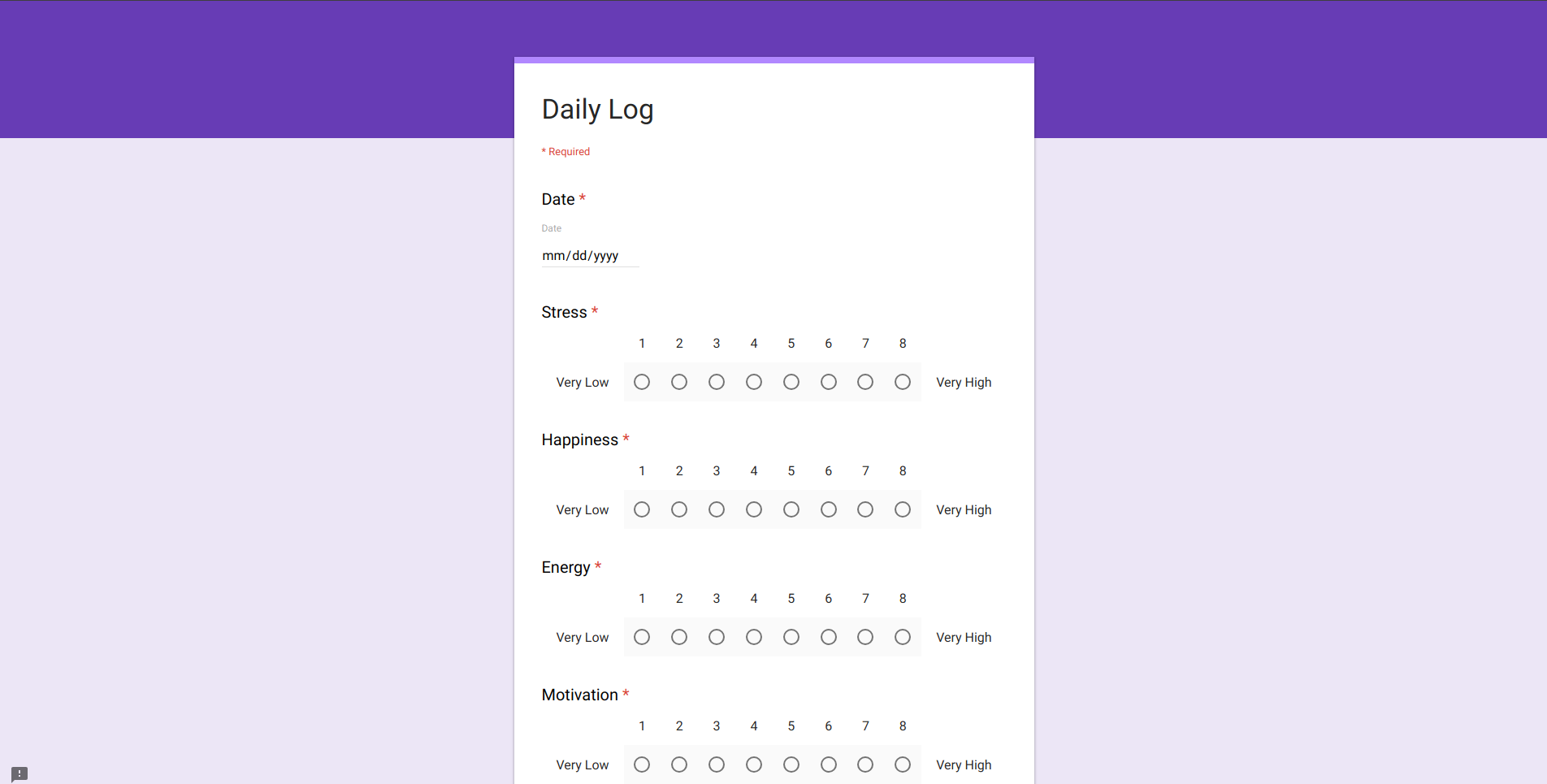 I explored a few apps like Daylio to track this information but they were simply not customizable enough and many did not have the option to export your data.
Correlations
I have roughly divided what I will be evaluating into two categories. Stress Predictors are variables that are external and mostly uncontrollable but I have a suspicion could be affecting my stress levels. Stress Responses are behavioral or habitual changes that I make as a result of increased stress.
This list is not exhaustive but it serves as a start for my exploration.
Stress Predictors
Work

Due Dates
Incomplete Tasks
Exams

Weather

Cloud Cover
Temperature
Precipitation
Stress Responses
Sleep
Resting Heartrate
Eat

Overall Caloric Intake
Caloric Breakdown
Food Types

Web Usage
Physical Activity
Obviously, there could exist strong correlations between these variables, independent of stress, and I will investigate those if it seems necessary.
Conclusion
If I have time, I will check back at the middle of the semester. If not, this analysis will serve as a summary of my semester tracking stress. Overall, this should be pretty interesting and I'm excited to see what I find.
I implore any others who want to determine what causes their stress and how it manifests itself in their daily life to try this experiment. I will do my best to make my code as reusable as possible.